Regrow Hair clinic is endowed with highly-qualified doctors and technicians. We work under the supervision of our founder and managing director, Dr Ankur Singhal.
We provide the most effective treatment with utmost care according to the current medical requirements.
Our dermatologist, Dr G K Sharma, is one of the best doctors to perform Mesotherapy in India. He provides premium quality treatment to his patients.
We believe that all our patients are unique, and they need the same level of special treatment.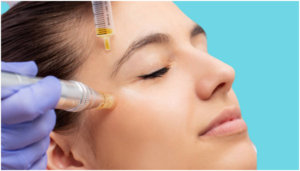 What is Mesotherapy?
Mesotherapy is a non-surgical, minimally invasive process. Here we use microinjections containing enzymes, plant extracts, hormones and vitamins to rejuvenate your skin and reduce extra fat. The ingredients are delivered into the mesoderm layer of the skin.
Mesotherapy treatment is highly popular these days. We suggest this treatment to solve multiple problems with a long-lasting solution.
The treatment makes your skin more hydrated and more glowing. To book an appointment with us to know more about the treatment.
What are the benefits of Mesotherapy?
The benefits of Mesotherapy are many folds-
The serum used in the treatment is highly beneficial for your skin.
It hydrates and brightens up your skin.
It can improve the superficial wrinkles of your skin also.
The treatment is more effective than any cosmetic lotion or cream.
It is a very effective alternative to expensive surgeries.
The treatment is a one-stop solution for multiple dermatological problems.
It can be an effective solution to treat alopecia.
How does the treatment go?
During the treatment,
The doctor will give you certain topical medicines to reduce your pain.
Then he will inject medicinal ingredients into your skin through the microneedle.
He will inject the ingredients into different layers of your skin.
The whole process depends upon the requirement of our patients and issues related to their skin. Our doctor injects around 1 to 4 millimetres deep into your skin. Even the angles are different while performing the procedure.
Generally, you need several sessions of Mesotherapy to get the desired result. You will receive injections every 7 to 10 days in the initial stage. If the treatment shows improvement Dr Sharma will increase the gap between the sessions.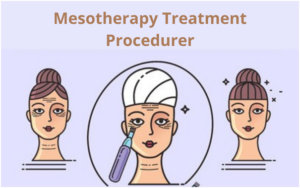 What is the cost of Mesotherapy treatment?
The treatment of Mesotherapy at Regrow Hair Transplant Clinic is Rs. 5000 per session. This may vary according to your requirement, the area of your treatment etc.
Tips for before treatment
Avoid aspirin and any nonsteroidal anti-inflammatory (NSAIDs) for one week before the procedure.
Keep your alcohol intake in check before your session.
Avoid skin care products containing 1% Retin-A close to the area to be treated one month before your treatment.
Do not use any skincare products one month before your treatment.
Avoid professional chemical peels.
Tips for after treatment
Use moisturiser if you feel that, your skin has become dry and light.
Avoid sunbed, sunbathe, sauna or steam bath right after your session.
Do not forget to use the recommended sun protection.
Avoid waxing, bleaching for five days.
Do not go swimming in chlorinated water for 3-5 days.
Stay away from excessive exercise immediately after your treatment.
Take all the medicines according to your doctor's instruction.
Common side effects:
Though the treatment is safe and there are no long-term side-effects yet, you may suffer from the followings-
Flushing and redness
Swelling and pain
Tenderness and itching
Bleeding and bruising
These will be cured within the same day of your treatment.
Recovery:
Mesotherapy treatment is a non-invasive procedure. It takes the least time to recover. Generally, you can return to your regular activities right after your session.
You may need to take a rest for only one day if there are swelling and pain after the treatment.
Mesotherapy for hair loss
Mesotherapy can treat hair loss from alopecia along with treating wrinkles and removing unwanted fat. For hair loss, injections containing vitamins or medicines like finasteride, minoxidil and plant extract are injected into your scalp.
Process:
The process includes,
Cleaning of the scalp gently
Injecting small doses of the necessary medicines into the scalp approximately 1 mm in depth
The treatments help in the improvement of blood circulation to encourage growth