Every woman dreams of beautiful hair; still, there comes the point when she starts losing her hair. At that time, the only alternative that can protect you from baldness is hair transplant treatment.
Those days are gone when it was considered that hair transplantation was not for women. Now, females can also undergo hair transplant to rebuild their hairs as hair transplant is made for all the genders to tackle baldness.
If you want your hair back, then, visit Regrow Hair Clinic, the best hair transplant clinic in India and consult Dr Ankur Singhal for the best Female Hair Transplant.
Dr Ankur Singhal is one of the leading hair transplant surgeons in India. He is a Clinical Cosmetologist and Certified FUE expert. Dr Ankur specializes in FUE and DHI hair transplant techniques. He has treated many patients to regain their hair and confidence.
At Regrow Hair Clinic, our team have successfully transplanted over 6 million hair grafts from scalp to scalp, beard to beard and beard to scalp and scalp to beard. The Regrow Clinic has state of the art technologies for hair restoration procedures.
Why should you choose Regrow Hair Clinic?
It would be best if you choose Regrow Hair Clinic as we are one of the great choices for hair transplant treatments. Continue reading to know the reasons:
Well-qualified and Experienced Doctors
At Regrow Clinic, you will get a hair transplant from Dr Ankur Singhal and his team of hair professionals. Dr Singhal is one of the most trusted hair transplant surgeons in India. Our skilled team of hair experts will help you get the desired results without any complications.
Advanced Equipment and Facility
Providing the most advanced equipment to our doctors always helps us in achieving excellent results for our clients. At our clinic, all the technologies are safe and effective. Our hair transplant surgeons plan your hair transplantation thoroughly and execute it accurately. We differentiate ourselves from other clinics because of our principles for treating our patients.
At our clinic, you will undergo treatment from expert hair transplant surgeons, with the latest equipment, and other modern facilities. At the same time, we retain our rates to a level where anyone can afford our services.
Trained and Certified Staff
The doctors play a significant role in every healthcare organization. But the expertise of other team members is also crucial for more reliable service delivery. Our medical staff is qualified, certified and experienced; the future of your hair is in safe hands.
Hair Transplant for Women
Hair transplants for women are different and unique from hair transplants for men. A female hair transplant is the best solution if hair loss makes unwanted changes and critically affects the psychology of the patient.
Hair transplantation is a surgical procedure that helps hair regrow on bald areas. A hair transplant is the most reliable choice for women if done by an expert and board-certified hair transplant surgeon like Dr Ankur Singhal.
How much does a female hair transplant cost?
Female hair transplant cost in India is a part of the amount charged in other developed countries. At Regrow Clinic, we provide the most advanced hair transplant treatments to our patients so that anyone can avail themselves from them. We can ensure you that we will charge you the most affordable hair transplant treatment.
How is hair transplant for women performed at Regrow Hair Clinic?
At Regrow Clinic, Dr Ankur Singhal, our expert female hair transplant surgeon implements one of the two FUE and DHI hair transplant techniques.
In Follicular Unit Extraction (FUE):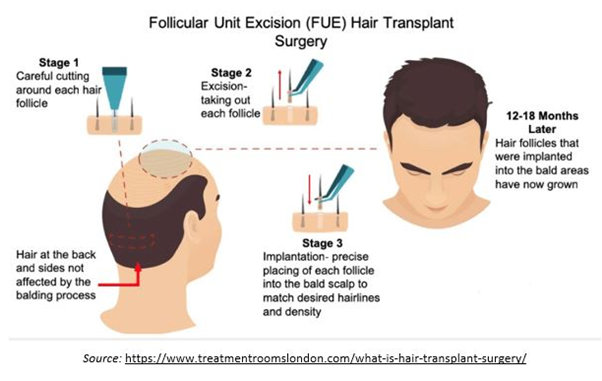 The surgeon plucks individual follicles from the back of the scalp with a micro-punch tool.
The surgeon makes small holes with a punch in the region of your scalp that's receiving the hair transplant. They will gently implant a single hair follicle in these holes.
During a single session, a surgeon may implant hundreds or even thousands of hair follicles.
In Direct Hair Implantation (DHI):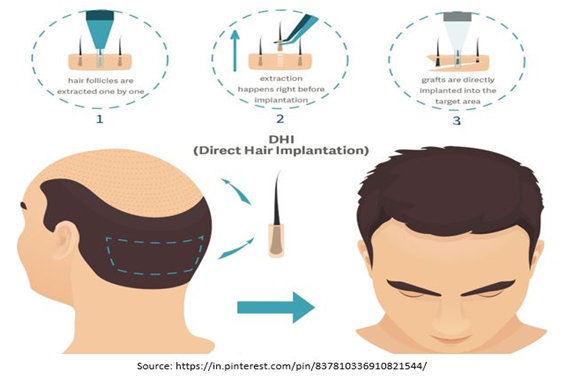 Our surgeon will shave your scalp and administer local anaesthesia to numb it.
The surgeon will remove hair follicles from the back of your scalp using a tool with a fine tip.
The hair follicles will be placed into a pen-shaped tool and implanted into the balding area of your scalp without making any incisions.
The surgeon will apply an antibiotic cream and put a bandage to all sites.
FUE and DHI surgeries usually take about 8 hours to complete. But the exact time can vary depending on the number of hair follicles being transplanted.
Advantages of Hair Transplantation:
The hair transplant process provides many benefits, like:
Natural hair regrowth
Less downtime
Painless and Scar-free procedure
Cost-efficient in the long run
If you are a woman suffering from hair fall, then it is worth consulting Dr Ankur Singhal at Regrow Hair Clinic for a suitable hair transplant treatment.