The hair transplantation world has changed dramatically in the last decade, thanks to technological advancements. As technology evolves, the hair transplant industry also upgrades itself.
Hair transplants are becoming more common than they were ten years ago. It is no longer a practice reserved for the wealthy class and celebrities. Direct Hair Implantation (DHI) is one of the many hair transplant procedures available today.
Direct hair transplant is a new addition to the process of hair restoration treatment. It is a very beneficial and minimally invasive hair transplant technique.
Hence, people in India, especially Haridwar residents, prefer DHI Hair Transplant as it offers quick recovery without leaving any scars.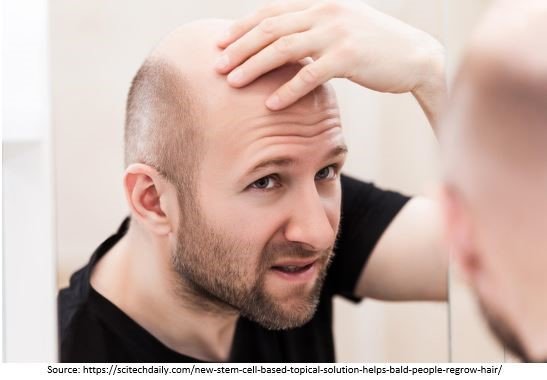 The DHI procedure demands immense skills and expertise. Therefore, you should undergo a DHI hair transplant from a good hair transplant doctor in Haridwar, India. To avoid any possible side-effects or complications, you must undertake treatment at a reputed DHI Hair Transplant Clinic in India.
What is Direct Hair Transplantation (DHT), and How is it Done?
DHT is an improved form of FUE hair transplantation that uses a similar procedure. It involves extracting hair follicles from one section of your head, usually the back of your scalp, and transplanting them into balding areas. These hair follicles will eventually grow into healthy new hairs.
The Following Is A List of What to Expect During The Procedure: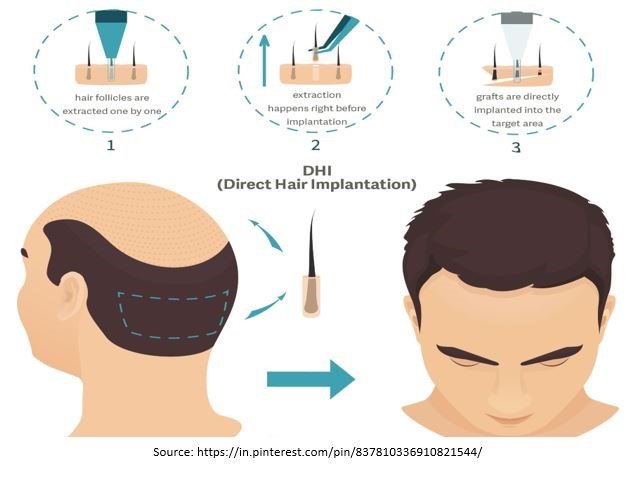 Often, surgeons shave the head and numb it with local anaesthesia.
Using a fine tip instrument, the surgeon will remove hair follicles from the back of your scalp.
The surgeon will load the hair follicles into a pen-shaped tool and implant them into the balding area of your scalp.
The surgeon will apply an antibiotic to all of the wounds and cover them with a dressing.
The direct hair transplant technique usually takes about 8 hours to complete. However, the exact time depends on the number of hair follicles that you want to transplant.
You will experience the complete result of your DHI hair transplant anywhere after 6 to 12 months.
Who is Eligible for DHI?
A DHI hair transplant is not suitable for everyone. Ideal candidates for DHI are:
Men who have male pattern baldness.
Men as well as women who wish to thicken their hair.
Men who want to undergo a beard hair transplant.
People who do not have sufficient donor sites are ineligible for DHI.
Now let us know, How much does the DHI Hair Transplant Cost in India?
DHI hair transplant cost is a bit expensive procedure as it requires expertized skills and knowledge. Along with this, the best hair transplant doctors in India use a unique, advanced tool which is known as a special implanter pen, for the most effective results.
Hence, the chance of having any error during the procedure is none.
Often, some of the renowned hair transplant Clinic in India sets the treatment charges so that anyone can afford it. The cost of DHI Hair Transplant in India is quite affordable in comparison with western countries.
What Are The Advantages Of A Direct Hair Transplant?
It yields 100% natural results.
It is a painless procedure.
It offers complete hair coverage giving a denser look.
It is a less time-consuming process.
We can use DHI for the transplantation of a large number of hair follicles.
No risk of scar formation in your donor area.
The higher survival rate of the extracted hair follicles than FUE or FUT treatment.
What Shall You Expect After a DHI Hair Transplant?
After having a DHI hair transplant, you can expect the following:
During the first week, minor swelling and discomfort in the treated area.
In the second week, you will get slight redness in the donor and the implanted region. It will disappear soon.
About three weeks after the transplant, you may notice the temporary loss of implanted hair. It is pretty normal and expected.
After three to four months of the DHI hair transplant, you will notice that implanted hairs are growing gradually. The entire process of hair regrowth can take up to 16 months.
What is the DHI Hair Transplant Success Rate?
When comparing hair transplants to other hair regeneration approaches like over-the-counter products, it's clear that the surgical procedure has a more significant impact and a higher success rate.
In four months after a DHI hair transplant, you can see 10 to 80 percent of the transplanted hair developing. DHI hair transplantation has a 100% success rate.
If you're considering a hair transplant, book an appointment with one of the best hair transplant doctors in India.